Mission: To create access to affordable eyewear everywhere.
---
Where they work: India, Bangladesh, Nigeria, Kenya, Rwanda, Ghana, Uganda, Zambia (core markets)
---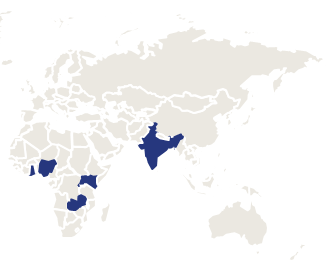 ---
VisionSpring is an international social enterprise which gets reading and prescription glasses to people who wouldn't otherwise have access to them. Through operating optical stores, conducting vision campaigns in remote areas and partnering with governments, NGOs and hospitals, VisionSpring is delivering eyesight screening services and affordable, high-quality glasses to those living on less than $4 a day.
The effect of improved eyesight on worker productivity is significant. VisionSpring have found that a customer's investment of just $3-4 for a pair of reading glasses leads to an average increase in their income of 20% – a hugely important uplift for low-income workers. In 2017 alone, VisionSpring distributed approximately 900,000 corrective glasses.
---
Our partnership: We are supporting VisionSpring with unrestricted grant funding from our sister non-profit Hampshire Foundation.
Learn more about their work on their website.