---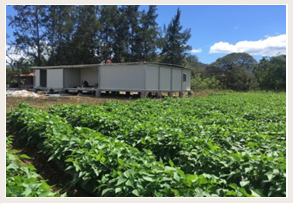 Mission: To transform the global food industry one agri-business at a time.
---
Where they work: East Africa & Latin America
---
Our partnership: We have been providing a working capital facility to InspiraFarms since 2016 through our sister non-profit Hampshire Foundation.
---
InspiraFarms is a social enterprise and B-Corp that provides turn-key refrigerated storage solutions and technical support to small and growing agribusinesses in the developing world. Its unique and customisable technology aims to reduce agricultural produce losses and energy costs, and add value to the produce through processing, in order to bring higher financial return to the businesses and their producers, who are often smallholder farmers. InspiraFarms offers its products through lease-to-own financing and can provide solar-powered solutions for businesses and cooperatives that aren't connected to an electricity supply.
We are providing a working capital facility to allow InspiraFarms to provide affordable leasing terms to SMEs and smallholder farmer groups that would otherwise not be able to afford this technology. These organisations often lack access to value-addition technology because of its high costs and their inability to finance it. Removing the challenge of financing from the equation, our partnership expects to prove that post-harvest value addition assets enable agribusinesses and smallholders to capture more value and improve their incomes by selling better quality processed food and higher volumes due to reduced food waste.
Find out more about their work on their website.
---