---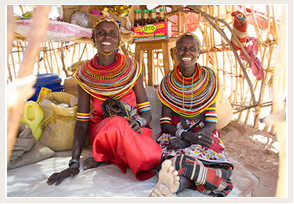 Mission: To empower women in the drylands of Africa to establish sustainable livelihoods, build resilient families, graduate from extreme poverty and catalyze change in their rural communities.
---
Where they work: Kenya & Uganda
---
Our partnership: We have supported BOMA since 2016 with unrestricted grant funding.
---
BOMA implements a high-impact poverty graduation program for ultra-poor women in the drought-threatened arid lands of East Africa. They help groups of women to start small businesses in their rural communities, by providing them with grants, skills training and mentoring over two years. The women use the additional income to pay for food, school fees and medical care for their families, as well as to make group savings, so that they are more resilient against shocks such as drought. After the two years the vast majority of women graduate from extreme poverty, which means that their households are eating two meals a day, they have a sustainable livelihood, they have savings to last six months and all of their girl children are attending primary school.
Find out more about their work on their website.
---